Skip to main content
Search
Jobs
Life at Expedia Group Blog
Back to blog posts
Which Guiding Principle is the most important?
Nick Andrews | Senior Director, Market Mangement in Bangkok, Thailand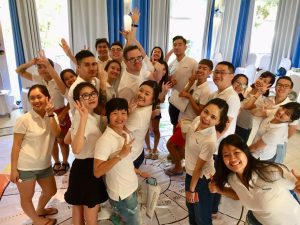 Our Guiding Principles inspire us to do great work every day in Expedia Group, we talk about them a lot and so I'm often asked which Guiding Principle is the most important. In reality, they all are important since together they shape how we work – but there is one Guiding Principle in particular that I hold very close to my heart. We call it 'One Team, Group First'.
One Team, Group First
Over 2 years ago, when I was managing the Vietnam and the Philippines offices, I saw that there were some really amazing best practices across the world in how to manage our partners. However, our teams were struggling to adopt them and make them a habit, which turned into each country and each team doing things very differently. Don't get me wrong, our teams were still managing our partners well, but I thought we could go one step further by having one world-class approach for the group that would help us all delight our partners.
So, I worked with various folks in my team to pull together the best practices from different countries into what would be our Gold Standard for Account Management. As we did this we weren't just trying to optimize for my countries, but instead, we had an eye on all of Expedia Group. We wanted to ensure that if this was rolled out across the company, it would be globally relevant and it would be simple for all teams to digest. This forced us to take on a very different mindset. At first, it wasn't easy for my team, but they saw why it was so important and boy did they make it happen!
The difference between good and great
As you can imagine, combining so many best practices into one ends up driving the bar very high, but that's okay. At Expedia Group, we have a team who is driven and engaged, and they want to delight our partners, so they were all up for the challenge! So, we trained my teams on how to deliver the Gold Standard in Account Management and helped them understand why this approach would make the difference between good and great.
Being clear to our market managers on what great looks like was only one piece of the puzzle though. I knew that the only way this was going to become part of our DNA is if we helped the managers. Help them understand how they can coach their teams and upskill them in the Gold Standard delivery. Again, we had to figure out how to not only help my teams drive up the Gold Standard of performance, but if we scaled this globally, how we could help managers everywhere in the company make this work.
We did it of course, and the results of rolling out our Gold Standard – coupled with helping managers be more coachlike – was amazing! Our team was energized and felt they were really growing their skills and helping their partners, which directly impacted and improved our team's performance. On top of this, this transformational approach was also the springboard for us to build a coaching culture in our teams where giving and receiving feedback is the norm, and where we all relentlessly strive for better.
One of the many great things at Expedia Group is that we are always looking to scale successful initiatives globally. Which is what we have done! And because we had built the whole approach with one eye on being globally relevant, the next phases were super smooth.
Encouraging ideas from everyone and making a difference
Despite the global scale and footprint of Expedia Group, it always amazes me how we continually think and operate like a lean entrepreneurial startup. There are not many companies like Expedia, and certainly, none that I know of that truly encourage great ideas from everyone. If you have an idea that works, the company will look to scale across Expedia Group fast.
One of the many reasons why I'm so inspired to come into work every day is how the Expedia Group culture encourages you to truly make a difference regardless of what role you have or what region you operate in. Of course, I couldn't have shaped this Gold Standard in Account Management alone. It was only possible because I had the pleasure of working with such an amazing team who wants to make a difference… and they do!