Skip to main content
Search
Jobs
Life at Expedia Group Blog
Back to blog posts
One Week With Chris Hills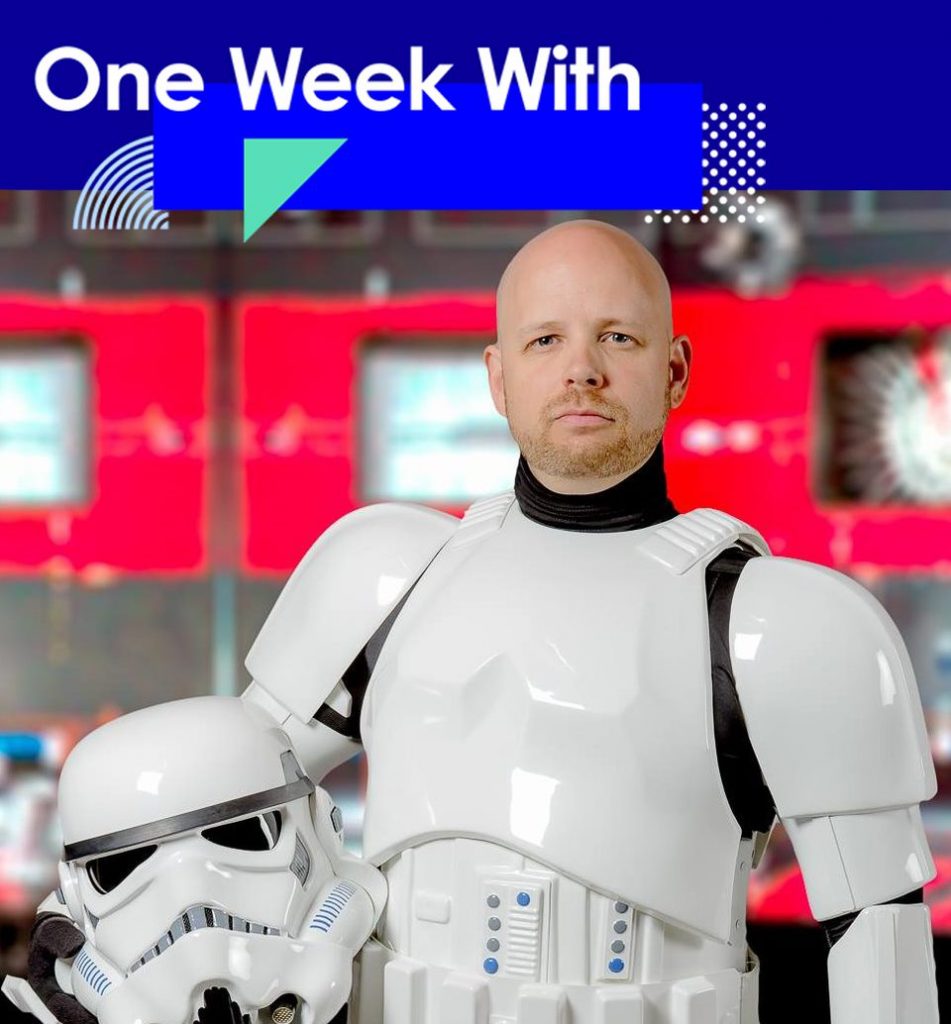 Job Title: Senior Customer Operations Manager (White Label Partners)
Team: Traveler and Partner Service Platform (TPSP)
Working Location: Chicago, USA
I'm an aviation buff and I am into Star Wars (just a little). Like most Expedians, I love to travel. I've lived all over the United States, travelled throughout North America and Europe, and even lived in Seoul for a year (former US Army). This week, I'm traveling to Cairo, Egypt; my first time in that region! ​​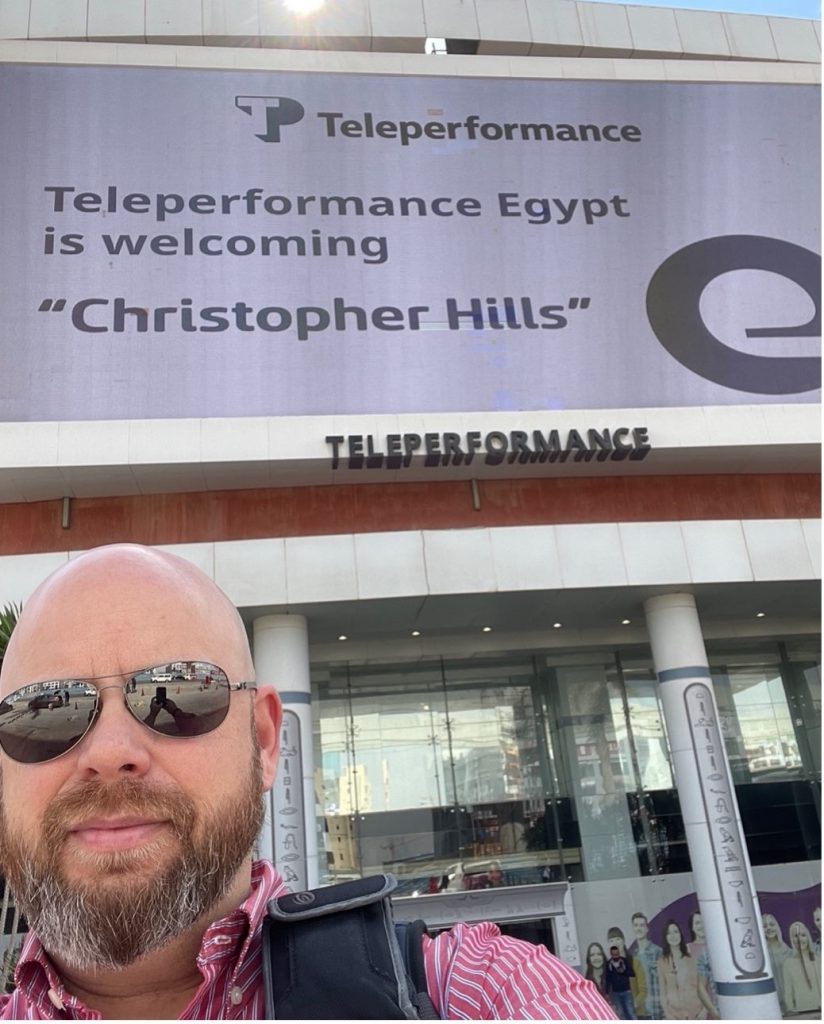 Hello Cairo!
I'm in Cairo this week, visiting the Teleperformance (one of our contact center partners) site. It is my first time in Cairo, and the first visit from an Expedian to the site in a few years. The hospitality has been amazing and everyone is incredibly welcoming – they even had my name up on the big sign on the front of the building!
The TP Cairo team supports three of our bank partners: TD, Scotia/Scene+ and BILT. Anytime a traveler who needs to book or has booked on one of these points of sale needs help, they call this team. Any escalation from the banks or the clients also goes to this team to solve.

Today was a whirlwind of meetings. First was the site tour – the building used to be a shopping mall, so it has a wide-open area in the middle giving an airy and spacious feeling. Then, we did a business overview, QA, and training presentations, closing out with meeting the operations managers and supervisors.
Jet lag kicked in about halfway through the QA presentation, but I fought through it. We worked from noon to 8:30pm, then it was time to head back to the hotel.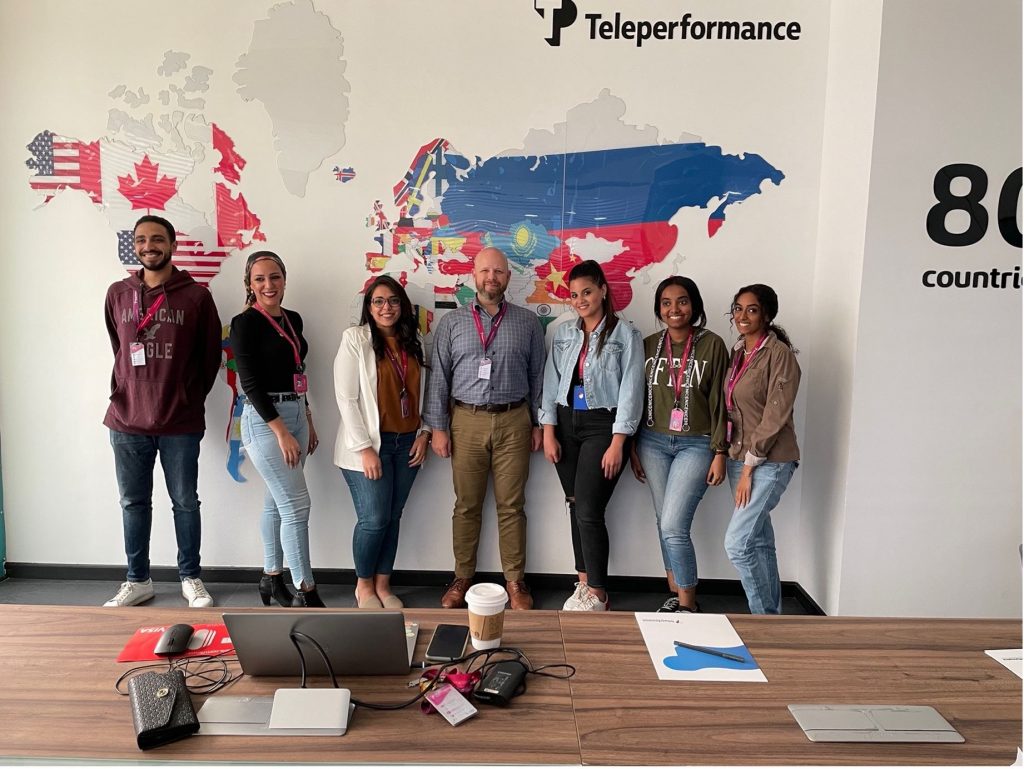 Working in the dark
Jet lag is killing me. I woke up at 2:30am again and couldn't fall asleep until 6:30am. I decided to skip the gym and try to sleep some more.
Today, I sat side-by-side with the agents from the floor and listened to their calls. I'm impressed with how knowledgeable they are. Clients ask some odd questions, so the agents must be able to do basic things like make a booking, but also walk through how to select seats, step-by-step through the website. They must be excited for a client's wedding one minute and sympathetic towards their illness the next. They do this every day, all day long.
Then the power went out! It was raining so hard that the lights and AC also went out. The computers and phones were still on, so we could take calls, but in the dark. The glow of the screens was the only light on the call center floor. The power was still off when it was time for me to head to the hotel.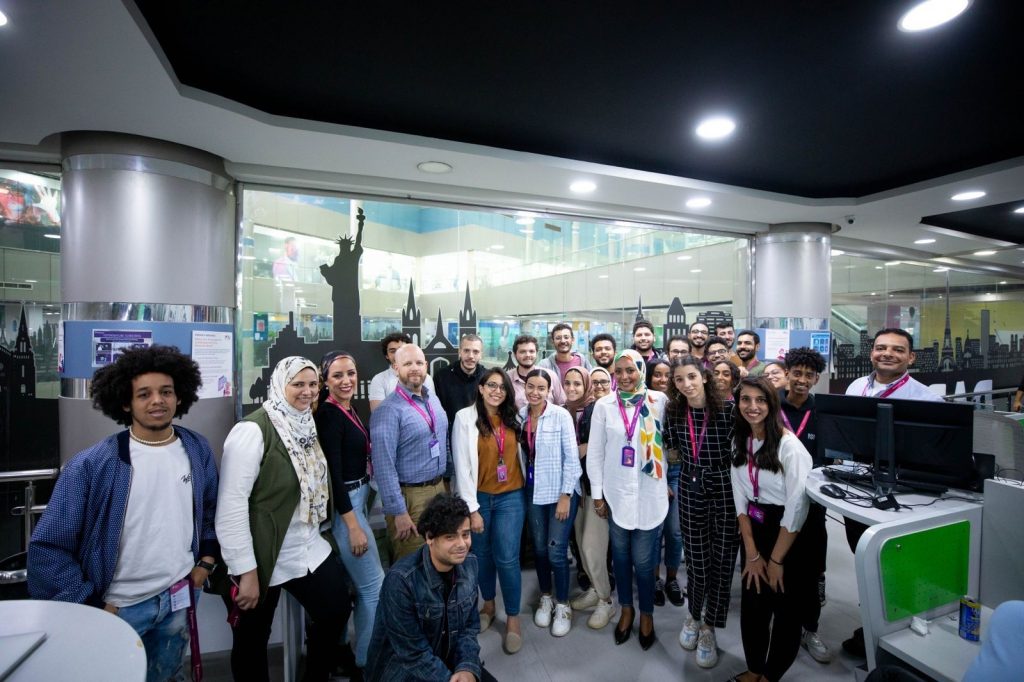 The importance of listening
It's 2:30am again, right on the dot and I'm awake. I made use of my time getting caught up on emails. I saw the sun rise and it is a beautiful day with clear skies. I started off with a run at the gym, but it was pretty warm so I ran less than my usual 4 miles. Even though I'm from the desert, I don't do well with heat. My driver arrived at noon and drove me 5 minutes to the office. He taught me a few Arabic words, but "thank you" is the only one I remember.
I spent the day listening to calls again with the agents, and then doing round tables with them. They seemed nervous at first, so I made sure to be relaxed so they would relax. The discussions were great; each was supposed to be an hour but lasted closer to two. They really opened up about work and the challenges they face. I have 4 pages of notes to organize so I can get to work on the action items when I get back to Chicago.
I also got to sit in with a training class and hear how the team is taught the GDS. It was really cool to see how engaged the students were. Then back to the hotel for some dinner and hopefully a full night's sleep as tomorrow is going to be fun!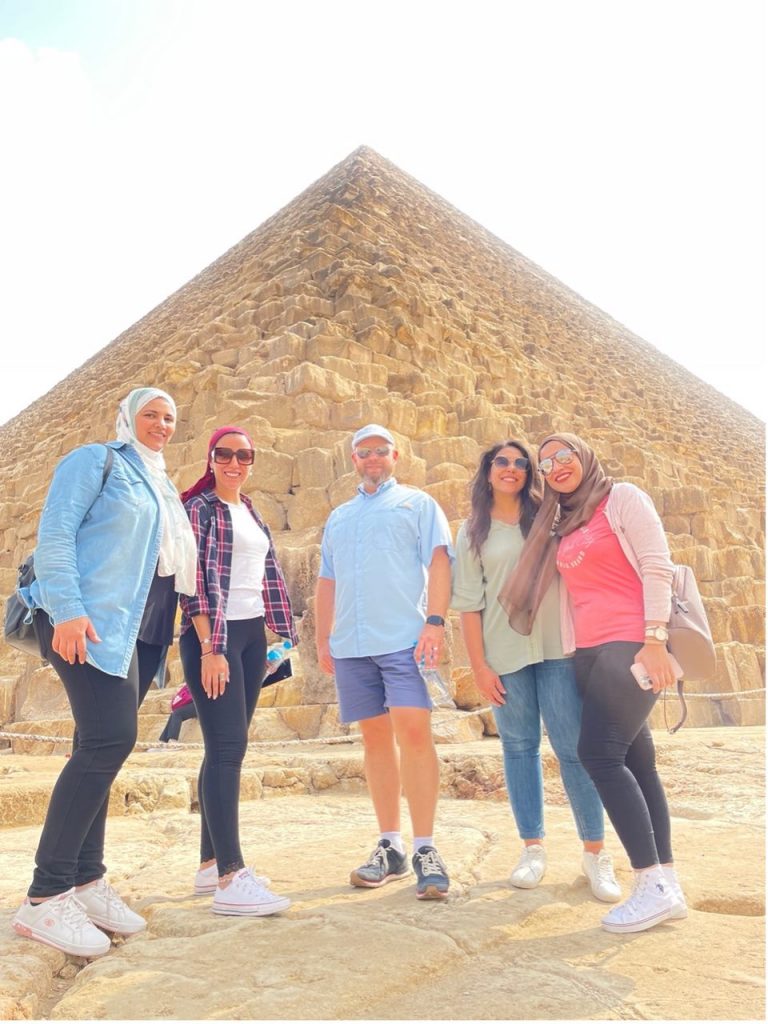 Fulfilling a life-long dream
Once again, I woke up at 2:30am, but mostly because I am excited for the day to come. As part of a team-building exercise, the team and I went to see the pyramids at Giza! I loved studying ancient Egypt as a kid, so going to Giza was a dream of mine.
We met our tour guide who took us to where the temples used to stand and where the Pharaoh's boats were buried. We then went to an area where you can get a great view of all the pyramids and took pictures. Actual camels were walking around!

Then it was time to go inside the Great Pyramid and it was an experience I'll never forget. Starting in a narrow hallway, you duck down into a tight passage that angles up about 40 degrees. It is so tight that you can't stand up and this is the only way in or out, so people are coming down as you climb up. It took a while, but we made it to the larger chamber where you can stand up. My colleagues from Teleperformance were troopers and we all made it to the top. It was really warm and stuffy in there. The ventilation was almost non-existent, which made the climb tough, but gave us perspective on what the ancients dealt with during construction. The last bit was another tight passage into the burial chamber. The sarcophagus was still in place, but empty, of course. After some quick pictures, we crawled out and made our way back down the steep ramps and outside where the desert air felt great.

We then all went to the temple where the mummy for the second pyramid was prepared and saw the Sphinx. Such an iconic statue – I just felt amazed looking at it.

We headed back to New Cairo for a quick shower before the team dinner. The dinner was amazing, Victor (the site Director) ordered everything on the menu, it seemed. My favorite was the Egyptian pigeon risotto.

I cannot thank the Teleperformance team enough for my time in Egypt. I would have loved to stay longer!

Voyage home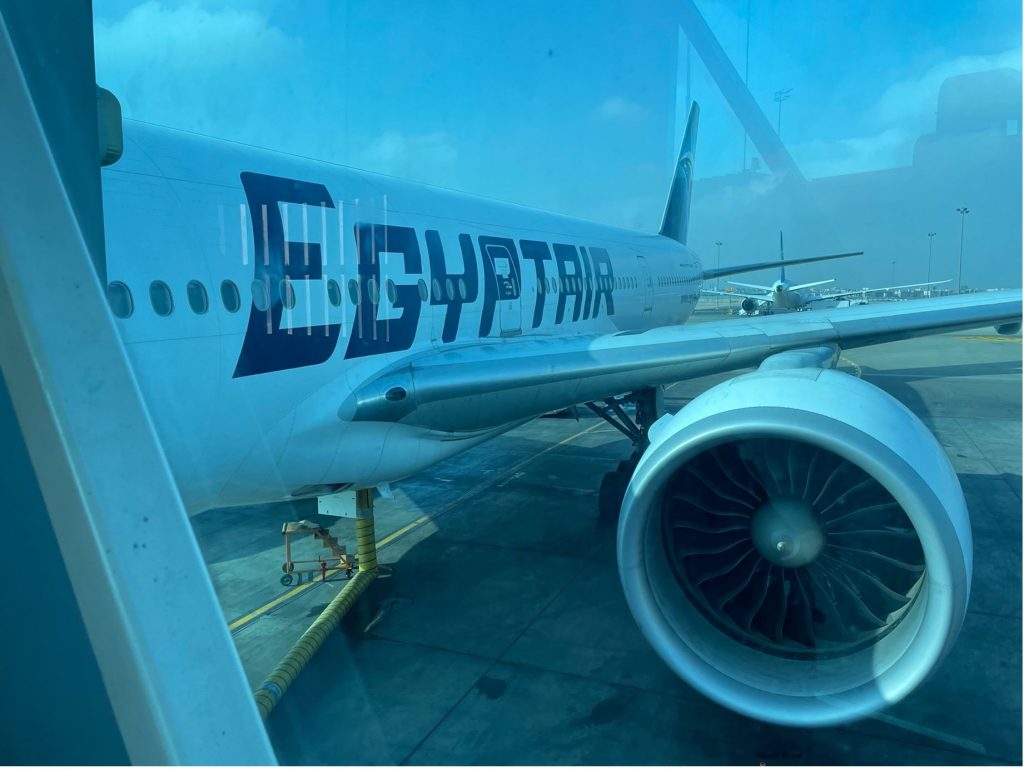 I woke up at 5:15am and threw on my travel clothes. My wife called 15 minutes later (it was 10:30pm for her) to make sure I was up and ready to go to the airport. She was anxious for me to get back and knew I was sleeping poorly.
First screening then check-in, which was pretty quick but I ended up in a middle seat at the back of the plane…for a 12-hour flight. I grabbed some food and a couple bottles of water and then another security checkpoint to board the flight…where they took my water. I guess this is how TSA rules are enforced. The flight went by pretty quickly and between the movies and video games on my handheld, I wasn't bored.
I got to JFK and thanks to some sprinting and the JetBlue bag drop agent who printed a new boarding pass for me with PreCheck on it, I got through just in time. 23 hours after I woke up, I was home with my wife and daughters.
.

Are you looking for a career filled with purpose, travel, and learning? Browse through our open roles here!