Skip to main content
Search
Jobs
Life at Expedia Group Blog
Back to blog posts
How we drive Inclusion and Diversity in Expedia Group
2020 raised a lot of questions and discussions on the topic of Inclusion & Diversity, a topic that proved to be near and dear to Expedians. But how do we really make a difference and drive change in the workplace?
The 2020 Inclusion & Diversity Analytics Hackathon is one initiative that brought together teams and individuals in EG who wanted to drive positive, proactive and practical action to improve Expedia Group's I&D footprint in the business, both internally and for our customers. This 2-day Hack invited Analytics and Data Science teams to work together and learn in a creative and data-driven activity supporting I&D at Expedia Group. Inclusion & Diversity is a broad theme which covers topics beyond company policies and a diverse workforce. Analysts and data scientists can expertly use data and logic to answer business questions, discover relationships, predict unknown outcomes and automate decisions. So why not use these Superpowers to solve for I&D related topics?
Team spirit, creativity and collaboration between teams are deeply ingrained in all of us at EG and it only felt natural to dedicate time to deliver exciting data-driven projects related to I&D. Here is what participants shared:
Why did you decide to participate in the Hackathon?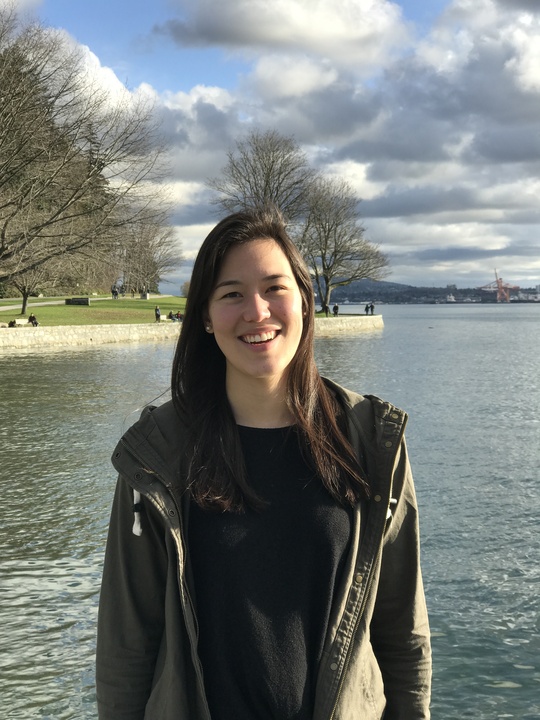 Laura: I was excited by the opportunity to work on a project that focused on a problem that I was passionate about, especially with people from across the organization that I wouldn't normally get to work closely with. It was a great way to spend time working with different datasets, thinking about the importance of I&D initiatives, and building a project that we felt would add value not just to Expedia Group as a company, but to the entire travel community. 
Iko: I had already been thinking about potential ways of improving our ability as an organisation to assess how we are serving travelers with inclusion and diversity related concerns. It seems that, for various reasons, we don't have readily consumable data sets for this purpose. I figured participating in a hackathon would be a good way of surfacing creative ways of leveraging our data, to this end. 
Roy : As an LBGT person of color, I+D is an extremely personal topic for me. I decided to participate because the Hackathon gave me a hyper-focused opportunity outside of my day-to-day work to tackle some of EG's most pressing data challenges around understanding the experience of minority travelers. 
What is your biggest learning/takeaway from the Hackathon? 
Laura: There is a push by many companies and organizations to improve the data around inclusive & diverse businesses and those that value and further I&D initiatives.
Iko: The EG-wide data sets present huge opportunities for ideating / improvement. You can learn a lot by looking at how other EG brands operate.
Roy: For me, the biggest takeaway is that the best solutions do not require sophisticated modeling or dev work. By incorporating existing open-source modeling packages into our tech stack, we were able to quickly solve a key data-blocker and focus our work on identifying business opportunities and solutions. 
What is one highlight from the Hackathon for you? 
Laura: The excitement from each team about what they worked on and the unique outcome of each project was inspiring. The highlights for me were the excitement of the teams, passion for their work and the unique inspiring outcomes by each team that shined through at the pitch presentations at the end of the Hackathon. It was great to also see that there are people across the company interested in implementing some of these projects!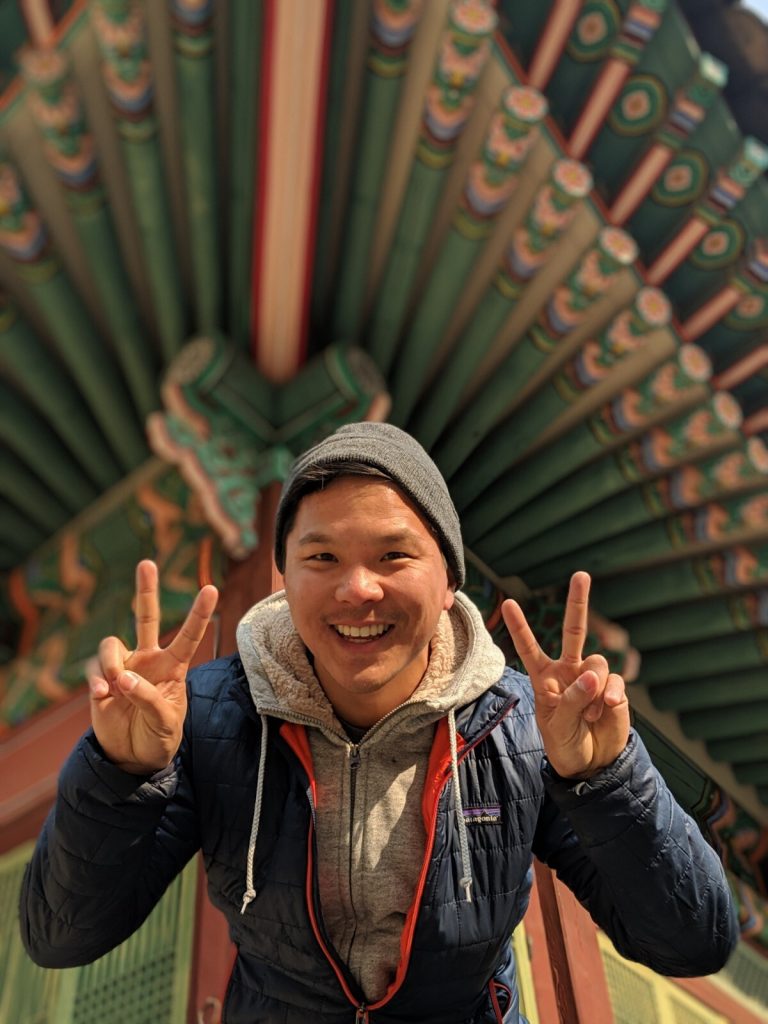 Iko: Working alongside and getting to know new people from other EG analytics teams.
Roy: One highlight for me was how quickly EG leadership was to share and adopt our findings outside of the Hackathon. Our work has already been shared across various I&D workstreams, and we plan to leverage our data-driven solution to inform the EG's strategic roadmap on becoming the world's most inclusive travel platform!
The 2020 Inclusion & Diversity Analytics Hackathon was focused on Expedians passion for I&D from the start, but winners also received cool cash prizes to use toward further I&D education and assets.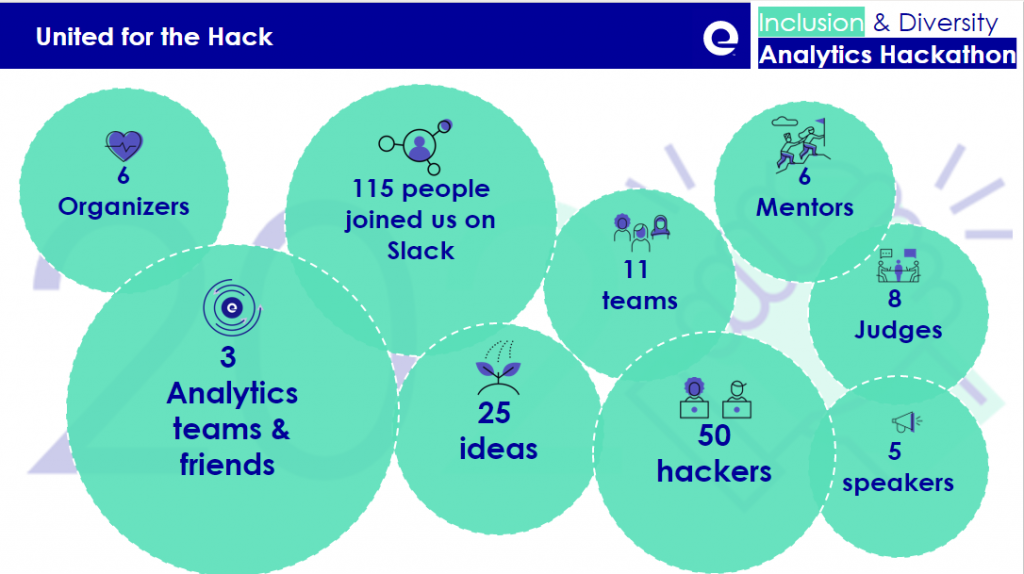 The event itself naturally evolved into a popular platform where 10 teams came together to drive their I&D ideas to success. Topics focused on under-represented identities such as LGBTQIA+, Disabilities, Race, Gender and Education were the centre of the competing projects. Participants often had to face challenges especially while forming a team given the event was fully hosted online. Each team had 48 hours to hack and deliver results that were judged by Analytics, Product and I&D experts. The judging rubric included relevance, creativity, technical ingenuity & analytical rigor, feasibility & functionality and pitch. Some teams focused on inclusivity scores of properties, demographically underserved travel options and even recruitment specifications for EG candidates.
The 3 winning ideas were:
1st – Investigate I&D-segmented booking experience (open-source Python packages, chi-squared tests) 
2nd – Property Inclusivity Score (NLP on user reviews) 
3rd – Surface local businesses owned by people of underrepresented identities near to travel destination (external+internal API calls)
This has been an inspiring experience for us at Expedia Group and we hope to see some of the projects developed by our teams come to life and bring our company further to being an example for Inclusion and Diversity in the industry.
—
Join our Talent Community
We're looking for outstanding talent to join us on our mission to power global travel for everyone, everywhere. By joining our talent community, you'll have exclusive access to our latest opportunities, events, interview advice, and global insights from our Expedia Group leaders. Sign up now!